Garden Centre and Nursery in Newent
Roses Country Fayre is a family run garden centre and nursery in Gloucestershire near Newent, Ledbury and Ross-on-Wye, on the Ledbury Road. The business has been run by Chris and Barbara Rose for over 30 years, now assisted by their son James.
Beginning from a table at the top of a drive they have become a complete garden centre with cafe. They specialise in producing a wide range of bedding and basket plants, all grown in their own nursery where over 30 years of growing experience ensures a top quality product - for example the award winning hanging baskets seen on the streets of Ledbury.
Roses Country Fayre also offers a fine assortment of alpine & perennial plants, garden shrubs and an excellent display of roses including David Austin varieties. Last year saw a huge expansion of 'Grow your own' vegetable plants.
There is also a surprisingly wide range of garden tools, furniture, composts, garden pots & ornaments. All these items are very competitively priced and recent reviews have praised the good value on offer.
In response to customer demand Roses Country Fayre recently opened a brand new coffee shop. Cafe Rosie has answered the calls of gardeners requiring a tasty light lunch or a hot drink with a homemade cake in an attractive location. Recent improvements include an expanded children's play area and a 2nd patio area to catch the late afternoon sunshine.


Video updates from Roses Country Fayre
View our video for a quick whiz around our plant area. You can see more videos from around the garden centre including the huge range of Geraniums we grow here.
PLANT OF THE WEEK: RHODODENDRON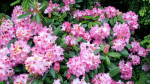 The shadiest corner of your garden becomes the highlight of your spring display when you plant a rhododendron – probably the most brilliantly-coloured of all the early-flowering shrubs with masses of sumptuous blooms in every hue from deepest scarlet to magenta pink.
All varieties of rhododendron like a moist, acidic soil and dappled shade, where they'll make a sizeable and very showy shrub in time. If space is limited, or you garden on neutral or chalky soil, don't worry: you can still enjoy rhodies. Just choose a compact variety bred to thrive in containers filled with ericaceous (acidic) compost for an equally spectacular display each spring.
Opening hours
Monday

09:00 - 17:30

Tuesday

09:00 - 17:30

Wednesday

09:00 - 17:30

Thursday

09:00 - 17:30

Friday

09:00 - 17:30

Saturday

09:00 - 17:30

Sunday

10:00 - 16:30
Show all opening hours
Sowing annuals
Most half-hardy (or tender) annuals may be sown now ; if you have a greenhouse or conservatory in which to keep them. Sown too early, and the plant become leggy in their search for light, making them grow into poor specimens, and no good for planting out at the appropriate time (after the frosts in late May or early June). You can sow marigolds, ageratum, stocks, tobacco plants and masses of others ; see what's on the seed racks at the garden centre!